2020 Adopt a Family or Child for the Holidays
Participate in a gift-giving program and help someone in need.
One of the very rewarding ways to give back during the holiday season is to sponsor a family or child in need. The following organizations allow for this opportunity through giving programs that involve you purchasing the gifts that they will deliver on your behalf. Watch the deadlines, though! They need time to collect and distribute. If you can't make the deadline, they are always happy to receive monetary donations.
Lenape Valley Foundation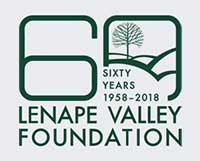 The Lenape Valley Foundtion offers a holiday assistance program to help Bucks County community members who are in financial need during the holiday season. Companies, organizations and individuals are invited to help by "adopting" families and /or individuals in order to offer them some joy over the holidays. Once a company/individual agrees to "adopt," they will be provided the first name and last initial of the individual along with their "wish list" of holiday gifts. By shopping for and purchasing gifts for these individuals, you will be doing a great service to members of our community. Please plan to deliver your gifts no later than November 30, 2020. Gift drop-off information will be provided.
Kelly Anne Dolan Memorial Fund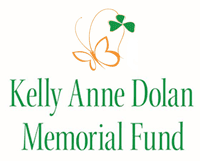 2020 has been a roller coaster for all families, but the Holidays will be especially hard and lonely for parents with a severely ill or disabled child. Your support for this annual Holiday Adopt-a-Family Program can make a big difference. To comply with CDC guidelines, they will be providing gift cards this year instead of actual toys/gifts. But each card will be designated for a specific child or family member that you will learn about.
New Hope-Solebury High School Key Club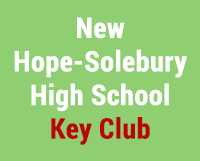 Help local in-need children by adopting them into your hearts this holiday season. Wish lists are obtained from the New Hope-Solebury School district along with local organizations such as Fisherman's Mark, a private social service agency in Lambertville, NJ. This year they have added some Super Seniors who are local seniors-in-need whose wish lists are also obtained through Fisherman's Mark. The wish lists come from children and seniors who don't have very much, and they really need your help. You will be provided with their essential information such as age, clothing sizes, hobbies, and interests, as well as their ultimate wish. You do the shopping and the Key Club will deliver the gifts! The estimated cost of each child's wish list is about $150 and $75 for a Super Senior. Gift drop off day is Wednesday, December 16, 2020.
Salvation Army, New Jersey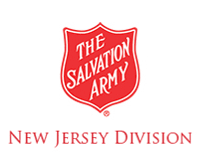 This program matches impoverished families throughout NJ with individual or group sponsors to provide for their tangible needs at Christmas. Sponsors come in many shapes and sizes. They can be individuals, families, small businesses or large corporations. In many of the larger corporations, different departments often each adopt a family. Many sponsors find the experience so fulfilling that they participate in the program year after year.
Hatfield Township Giving Tree Program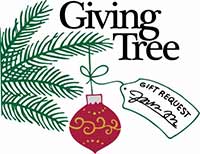 This annual program runs from November 2 through December 2, 2020. The Giving Tree will be in the lobby of the Hatfield Building, located at 1950 School Road. Four Hatfield families were identified through the North Penn School District for the "Holiday Giving Tree" program. All were in need of some assistance to make this holiday season a little more special for their children. All participants defined their special needs that they have this holiday season. Those wishes are placed on tags and the tags are hung on the "Giving Tree." People are encouraged to stop by during regular business hours to select a tag from the tree, and purchase the item(s) on the tag. They can then bring the new and unwrapped item(s) to the Township building before December 2, 2020. For more information, check out the website at www.hatfield.org or call the township at 215-855-0900
Mattie N. Dixon Community Cupboard

If you are interested in purchasing gift cards for families in need this season, please go to our website: www.community-cupboard.org and look for the link to a SignUp Genius. We are having our clients fill out which stores they would like to shop at for each of their children. We are then listing all the gift cards we need so that our parents/grandparents/caregivers can purchase the exact items their children want this holiday season. We will be updating the SignUp Genius link as the requests come in from our clients. We are also having a Last Chance Giveaway on Tuesday, Dec. 15th for non-clients in our service area. This will be an opportunity for some folks to pick up a few gifts (or gift cards) for their children. We will be in need of wrapping paper, tape and scissors as well for our families if you would be more interested in purchasing those types of items. All donated items will need to be dropped off at our cupboard (150 N. Main Street, Ambler, PA 19002) as soon as you can or by Friday, Dec 4th the latest. When you drop off, please have the value of the gift cards clearly written on them and on the receipt that we will have you fill out. Please check out our website for details, call the cupboard at 215-628-3002 for more information. Thank you so much for helping us make the holiday season a little easier for our families this year.
United Way of Bucks County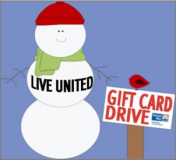 Each year, the United Way of Bucks County collects donations specifically to purchase gift cards to support older kids and teens (ages 11-17) in need this holiday season. This annual holiday gift card drive, which runs now through December 10, 2020, provides a gift for kids who would otherwise receive nothing. This year, there will be at least 1,200 young people waiting for holiday help. If you want to make a difference for a child in need, click here to make a donation now. A lot of help is needed to make sure that none of these kids are left out.
United Way of Hunterdon County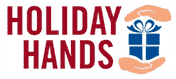 The Holiday Hands program of the United Way of Hunterdon matches donors with families in need and provides a wish list for the holidays. Last year Holiday Hands provided gifts to over 2,655 individuals in need. Requested items are things that most of us would take for granted. This year because of Covid concerns, we have limited the client "wish list" more than usual. Donors now might be asked for a new toy for a child, a game or book, a gift card, or even things like diapers, towels, or a set of new sheets. This year we are requesting that our donors limit gift donations to $50 per person. Every year we see individuals that do not get adopted. If you are able to spend additional funds PLEASE consider adopting an additional family and/or individual. We ask that you register by November 20, 2020 to ensure you receive your wish lists prior to Thanksgiving, but don't hesitate to contact us if you miss this deadline.
Pennridge FISH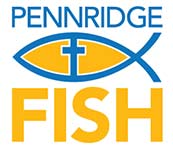 The Pennridge FISH Organization is grateful to receive donations from the community, churches, school and scouting groups, businesses and organizations for its annual Christmas program. Each year we serve more than 300 families with the fixings for a Christmas meal, including chicken, ham or turkey, and a dessert. We serve more than 400 children ages 0-15 with new, unwrapped toys/gifts and/or gift cards, hats, scarves and gloves. Due to the pandemic we will be giving only gift cards to parents with children age 15 and under this year. We are looking for Walmart or Target gift cards in the denominations of $25. Please mail or hand deliver gift card donations to FISH no later than December 1st. If you would like to donate to our Christmas program (food, money or gift cards), please note that donations should be dropped off at the pantry during our hours of operation: Mon and Wed 3-5 pm, Thurs 6-8 pm, Fri and Sat 9-11 am.
Family Service Association of Bucks County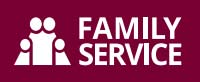 Year round, thousands of individuals and families turn to Family Service for help with a variety of needs. During the holiday season, needs are greater and these same people turn to us to help make their holidays a little brighter. We accept new, unwrapped gifts for children and teens. In December, we will display all of the gifts donated by the community and invite individuals with demonstrated need to "shop" for each child and teen within their family. Last year, we were able to brighten the holidays for more than 500 grateful gift recipients. Your generosity will help us, once again, provide a joyful holiday for many Bucks County residents. There are a few ways to help: Shop and drop off, make a monetary donation which will be used to purchase gifts or shop using Family Service's personalized wish-list available by clicking here.
All gift donations must be received at Family Service's Langhorne office on or before December 8th, 2020. Please contact Kim S. with any questions: 215-757-6916, ext. 218 or kstrong@fsabc.org.
Between Friends Outreach - Random Acts Of Christmas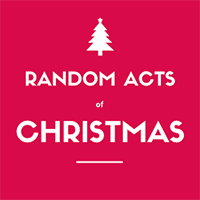 Between Friends Outreach, Inc.(BFO) is a 100% volunteer, faith-based, non-profit 501(c)(3) agency working with homeless, low income & Veterans in our community. They work one-on-one with clients in Bucks and Montgomery County by providing resources to prevent homelessness and to assist clients transitioning out of homelessness. During the holidays, they also supply hundreds of local children with Christmas gifts. "Angel Tags" list a child and what they'd like for Christmas. Angel Trees are located at participating businesses throughout Bucks County and also in Montgomeryville. Gifts need to be dropped off by December 4, 2020 to get them ready in time for the holiday. For more info, call 267-875-9460 or email BFOfundraising@gmail.com.
Hope for the Holidays Program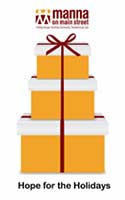 The Hope for the Holidays program is designed to give parents in the North Penn region a dignified opportunity to purchase gifts they feel most appropriate for their children. Manna will distribute gift cards to parents - $75 for each child participating in the program. This year, due to COVID-19, we are asking for monetary donations only. Donations exceeding the Hope for the Holidays need will be directed to our year-round programs. Your cooperation and consideration is appreciated as this program enables us to best serve our clients and allow our staff to focus on our core mission of ending hunger in the North Penn region.
Holiday Gift Card Program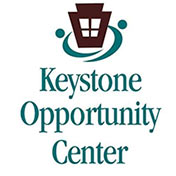 As a community-based nonprofit serving Bucks and Montgomery counties, Keystone Opportunity Center helps community members in need by offering a comprehensive array of social services that educate, encourage and empower them to become self-sufficient. Donating $25 gift cards allows families to have a special holiday experience by shopping for gifts that truly fit their family's needs. It allows the dignity of doing their own gift shopping. We ask that gift cards for the Holiday Sharing Program are Visa, MasterCard or Walmart, as these are most convenient for our families. These should be dropped off at the Center in Souderton.
Christmas Giving Program
During the holiday season, Boyertown Area-Multi-Service works extremely hard to make sure that local families who are struggling will still be able to enjoy the holidays. The holiday season is normally a joyous season filled with family and friends, delicious goodies and special gifts for loved ones. Unfortunately, many local families are unable to provide Christmas gifts for their children. Our Case Management Program assists client families with Christmas for their children. If you are interested in sponsoring a child through our Christmas Giving Program, please call! All individuals sponsoring a child will receive a personalized wish list for a child and a letter explaining drop off dates and other program details.